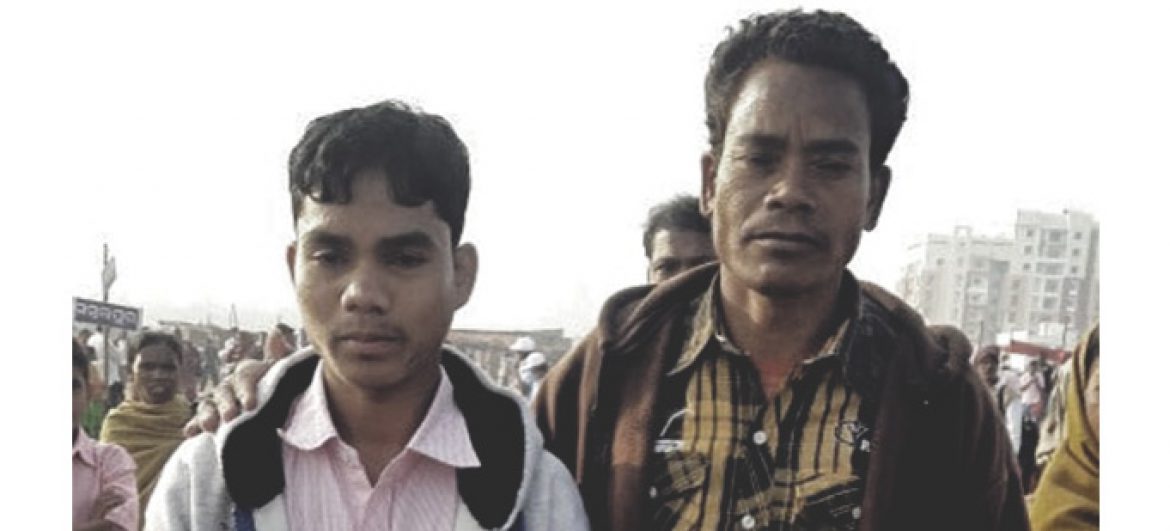 Everyone Can Aspire & Achieve !
Twenty year old Dasharathi currently is in first year of graduation degree course. He was born in a tribal family i.e. Saura in a remote village of Gajapati district, Odisha. His parents are illiterate managing subsistence through daily wage.  But they were keen to get the children educated. When he was in primary school, parents realized that the family and village atmosphere were not conducive for schooling. They were more worried about his future. Finally, Dasharathi was sent to a residential school at Kendrapara where he completed tenth grade with humble marks.
" Today, both parents and son are happy as they have found the much needed support to pursue their goal. "
Dasharathi was not sure about what to do next; his worries multiplied as he failed to get a call from good colleges for higher education due to poor marks. There was nobody to guide him and hence; landed in Goa with a hope to earn a good income working in construction industry. His father was not very happy with decision and explored possibilities to fulfill his dream. From some sources, he learnt about KISS offering educational opportunities to tribal children from distressed families. He persuaded Dasharathi and eventually got him admitted in KISS. Today, both parents and son are happy as they have found the much needed support to pursue their goal. With philosophy honors, Dasarathi is fully focused on studies and aspiring to become a model teacher and help out students languishing in similar predicament.
" My three years journey in KISS has given me confidence and vision to be something in life and be worthwhile for all"; exclaims a beaming Dasarathi with smile writ-large on his face. He is actively participating in activities like Peer education for life skill based ARSH program, different campaigns such as Swachh Bhrarat, basic health and hygiene, leadership, mentor tutor programme etc. He has acquired good number of skills and moving forward as a responsible and sensitive adolescent. He is immensely motivated for higher study and spending very quality times with his peers and inmates. He has understood the value of education and the value of life as well. When he was asked that "what change he is realizing within himself and why it so" he gave a touching reply;
KISS is instrumental in building trust and confidence within me through its tutor mentor program and various creative activities and exposure. I could realize the significant change within me starting from my dressing sense to communication and behavior. I have a very positive aptitude and worldview thanks to KISS. I am already a talk in my community as many parents are now looking at KISS for a secured and better future for their children.  I am really overwhelmed to see my parents taking full pride in my achievements and inspiring me for a bright career. I wish, all parents and children are change-makers as we are!