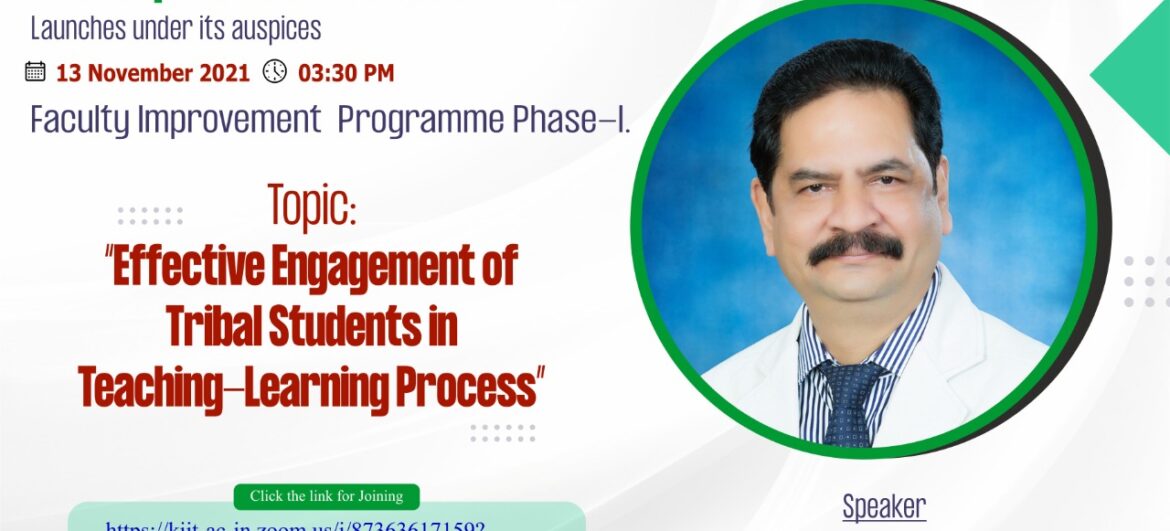 KISS Faculty Improvement Programme: Sessions on Effective Student Engagement and ICT & New Technologies
The second and third day of the weeklong Faculty Improvement Programme Phase-I being conducted by Human Resource Development Centre (HRDC), KISS Deemed to be University was devoted to the topics "Integrating ICT and New Technologies into Teaching & Evaluation" and "Effective Engagement with Tribal Students in Teaching-Learning Process" respectively.
Speaking on the third-day session on "Effective Engagement with Tribal Students in Teaching-Learning Process", Professor Deepak Kumar Behera, Vice-Chancellor, KISS-DU said that as all the students of KISS are tribals, most being the first-generation learners, there is a chance of psychological and cultural gap between the non-tribal teachers and their students. The teachers must have sensitivity, empathy and emotional intelligence, besides their domain knowledge, he stressed.
Professor Behera presented a detailed questionnaire to the participants that probed their level of familiarity with tribal society, religion, ethnicity and culture; students' background; their emphatical engagement with the students; among other things. He told the faculty members to be familiar with the policies and workings of the Tribal Advisory Council of KISS and the Working Committee on the Preservation, Promotion and Protection of Tribal Culture and Diversity. Teachers should develop in themselves the qualities of a LEADER – Learner, Enthusiastic, Amiable, Determined, Encourager, Ready, he added
The second day session on "Integrating ICT and New Technologies into Teaching & Evaluation" was jointly presented by Mr. Atul Nag, Associate Professor and Mr. Debabrata Dansana, Assistant Professor, KISS–DU.
Mr. Nag dwelt upon the significance of using ICT as a support to the teaching learning process. Mr. Dansana discussed the use of Google MeetR and ZoomR for conducting classes and tracking attendance of the participating students. He also mentioned the use of various support tools for online teaching like Jamboard, Microsoft PowerPoint and Zoomit. The major attraction was OBS Studio which could be used by any faculty to record or stream their lectures.
Mr. Nag also presented how ICT tools can be used for formative as well as summative assessment as well as addressing learners of various levels in line with the NEP 2020 requirements. He emphasized that all the tools discussed during the session were Open Source and could be used by any of the faculty to make their teaching and the student learning process interactive, innovative and efficient.
Professor Ashok K Mohapatra, Chairman, HRDC summarized the talks. Dr. Chittaranjan Bhoi, Director, HRDC and Dr. Prashanta Kumar Routray, Registrar, KISS-DU also spoke on the occasion. The event was well attended in both physical and online mode.