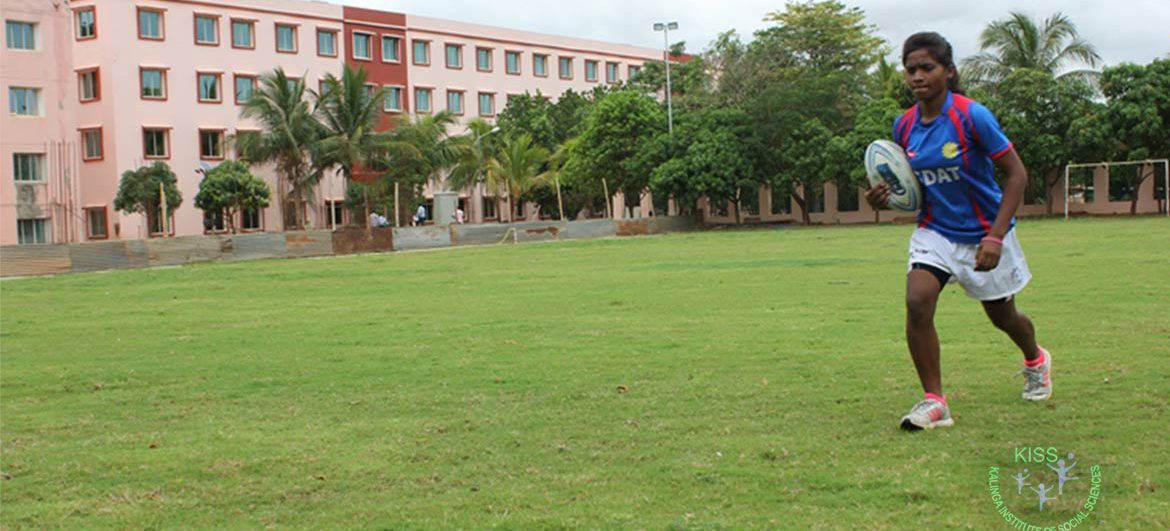 India's biggest rugby hope is from KISS | Hupi Majhi
When eight-year-old Hupi Majhi was sent to Kalinga institute of social sciences (KISS). She was fearful about what lay in store for her. It was her first time away from home, and what unnerved her was her inability to interact with strangers. Growing up in the small village of Dhatika, just north of the district headquarters Kendujhar, Hupi was raised according to a strict custom — as a girl, she must be kept indoors as much as possible. A few hours at school was all she was allowed.
It took her a few weeks to open up to the freedom away from home, at the Kalinga Institute of Social Services. "I was scared about how I would talk to people, so I bunked class. At the mess, I was scared to ask for more food, so I stayed hungry. And I couldn't speak Oriya, because I grew up speaking Santhal," she recalls. That was back in 2005.
Last week, on a green rugby pitch in Vientiane, Laos, she came across a few more unknown dialects, but had to resort to reading body language. "The message was clear. Stop Hupi and you stop India," she says, proudly. Still the 20-year-old prevailed, scoring a joint-highest six tries as she helped India to its best-ever finish at an international tournament — runner-up at the Asia Rugby Women's Sevens Trophy.
Since she won her first international cap early last year, this was the second time she was the top try scorer at an international tournament, and the third consecutive occasion where she top scored for her team. At the Asia Rugby Development Sevens Series in February last year, she scored a whopping 11 tries in five matches, and was the lone Indian scorer at the Sevens Series in Sri Lanka later in December.
All with a five-feet height, and weighing just over 50 kg. Her strength, however, is speed and reading of the game. "She's the fittest and fastest in the team," asserts former player Nasser Hussain, who is now the head coach of the women's team.
"Her speed and agility is an asset, but she reads the game very well. She has the knack of identifying space and then she makes the most of it," he adds. She quips: "It's not just a game of brawn. Dimaag ka khel hai sir." It's a skillset that she developed fairly recently when compared to the established runners in the game, who start off at an early age.
In hindsight, she feels she might have been content with living that life had she not left home. "Sab theek hi lag raha tha. Lekin ab maine duniya dekh liya hai," she says. It's a fate her elder sister suffered through, when she was married at the age of 18. Yet interestingly enough, it is in Hupi's brother-in-law, who she fondly calls 'Uncle', where the winger found her greatest support.
It was his idea, and upon his insistence that her parents, reluctantly, sent her on the overnight train journey to Bhubaneswar. There she took up athletics, competing and winning at inter-school meets in the 100m and 200m events — all barefoot. Her interest in the running events soon let up. She took to cricket for a while, till the ball struck the side of her face when she mistimed a sweep shot. At the same time, she used to watch from the sidelines, as a set of foreign coaches taught an unheard of sport with an egg-shaped ball. She wanted to try something. And that curiosity has set her off on a remarkable journey.
Sports Achievements 
| | | | | | |
| --- | --- | --- | --- | --- | --- |
| Sl. No | Discipline | State/University/ National/International | Place | Year | Position |
| 1 | RUGBY | U-16 National Rugby | Jharkhand | 2011 | Champion |
| 2 | RUGBY | All India Women 7s | BBSR | 2011 | Champion |
| 3 | RUGBY | All India Women 7s | BBSR | 2012 | Champion |
| 4 | RUGBY | All India Women 7s | BBSR |  2013 | Runners-up |
| 5 | RUGBY | Central-Zone Rugby Tournament | Chattisgarh | 2011 | Runners-up |
| 6 | RUGBY | U-18 Women Rugby 7s | Nagpur | 2014 | Champion |
| 7 | RUGBY | 35th National Games | Kerala | 2015 | Gold Medal |
| 8 | RUGBY | Pre-Olympic Qualifier Rugby Women 7s | Chennai | 2015 | Runners-up |
| 9 | RUGBY | All India Senior Women Rugby 7s | Bihar | 2015 | Champion |