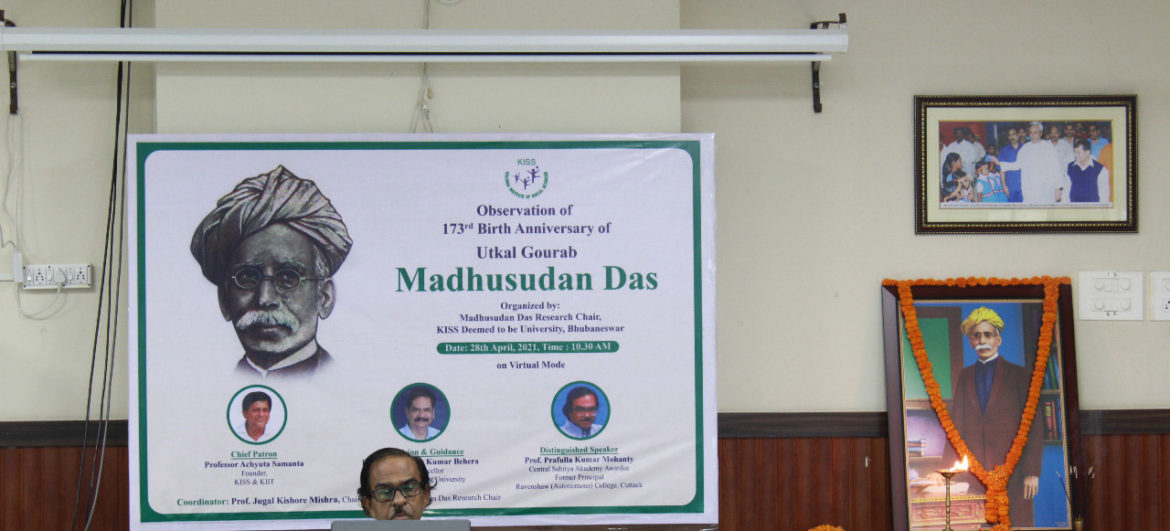 173rd Birth Anniversary of Utkal Gourab Madhusudan Das Observed at KISS-DU
The fraternity of KISS-DU under the aegis of Madhusudan Research Chair observed the 173rd Birth Anniversary of Utkal Gourab (Pride of Utkal) Madhusudan Das virtually on 28th April,2021. Popularly known as the Architect of Modern Odisha, Utkal Gourab Madhusudan Das was an Indian lawyer and social reformer, who founded Utkal Sammilani in 1903 to voice for the unification of Orissa along with its social and industrial development. He played a pivotal role in creation of Orissa Province (present-day Odisha) which was established on 1st April, 1936. The state of Odisha observes the birthday of Utkal Gourab Madhusudan Das as Lawyer's Day to pay respect and tribute to seminal role played by the legendry icon of Odisha.
The occasion was graced by Professor Prafulla Kumar Mohanty, former Principal of Ravenshaw (Autonomous) College and recipient of the prestigious Central Sahitya Akademi Award in the year 2004 for his book 'Bharatiya Samskruti O' Bhagabat Gita (Indian Culture and Bhagabat Gita). In his deliberation Professor Mohanty, drew reference from History that how earlier there was a culture of 'Ji Hazuri' ('Yes Sir') in the State and the writings were confined to poems and literature only. He opined that this trigged a feeling of being cheated in the people especially in the legal system. With Utkal Gourab Madhusudan Das returning from Bengal came the winds of change and led to the social, economic and industrial development of Odisha. Referring to his early life, he threw light on the struggles of Madhusudan Das and how he emerged as one of the greatest leaders Odisha has seen. Quoting Madhusudan Das "Education will lead you to life essence and not effervescence" he said that physical poverty will lead to cultural poverty and education plays an important role in eradicating poverty. "I am impressed that the KISS model is walking on the path shown by Utkal Gourab Madhusudan Das by providing education as a means to eliminate poverty in the tribal districts", added Professor Mohanty.
Speaking earlier, Professor Deepak Kumar Behera, Vice-Chancellor of KISS-DU in his welcome address greeted the Chief Guest and all the attendees and said that "Utkal Gourab Madhusudan Das was a strong advocator of Self-Sufficiency which we know as Atma Nirbhar today. It is the concept of self-sufficiency which infused the drive for industrialization in Odisha. Dr. Achyuta Samanta, Founder of KIIT and KISS with a noble thought and foresight established the four research chairs: Madhusudan Das Research Chair, Bhima Bhoi Research Chair, Gopabandhu Das Research Chair and Biju Patnaik Research Chair", concluded Professor Behera. Professor Jugal Kishor Mishra, Chair Professor, Madhusudan Das Research Chair introduced the distinguished speaker, and he expressed his gratitude to Professor Prafulla Kumar Mohanty for gracing the occasion. In his address, he paid homage to the iconic leader and underlined significant contributions of Madhu Babu. Further, he also clarified the need for maintaining quality in the academic and administrative activities of educational institutions.
Dr. Prashanta Kumar Routray, Registrar of KISS-DU in his address briefed that "the vision of KISS is not only to educate the tribal students but also to help people get a flavour of the work this pristine institution is doing since last 28 years. Many great sons of the soil have contributed to the state of Odisha and now the onus lies on the coming generations to keep up the good work they have done for the State. KISS has shouldered the responsibility of studying and doing research on the life and works of these leaders and we at KISS believe that it is our way of paying tribute and respect to their contributions. He clarified the vision of Dr. Achyuta Samanta for establishing of four research chairs to carry forward the in-depth study and research on the contributions of the persons of eminence to the state and the nation. He urged to organize national and international seminars and to develop a research centre by preparing and culling resources, books, materials, bibliographies and photo exhibitions under the aegis of the research chairs. These topics have been incorporated in the syllabus at KISS-DU so that the young generation know how this can be an emerging area of research". Dr. Routray concluded by extending a formal Vote of Thanks on behalf of the entire organizing team and the fraternity of KISS Deemed to be University.