Tending the Tibetan Communities & Monks In Odisha To Fight COVID-19 Crisis
KISS Foundation has taken a series of initiatives to help the people of Odisha and provided support to the State Government in the battle against the Coronavirus pandemic. In the latest initiative, the Foundation has extended a helping hand to the Tibetan communities in Jiranga and Chandragiri of Gajapati district in Odisha. Though the COVID-19 pandemic is not an immediate concern in this far-flung area of Odisha, hunger and poverty remain an issue in many settlements in and around Chandragiri.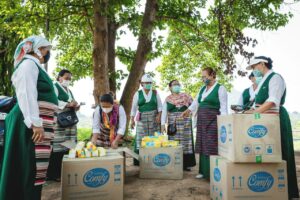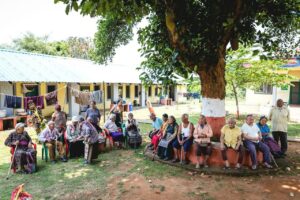 The KIIT and KISS family have provided basic essentials and groceries for at least a month to the Tibetan families settled in Chandragiri and to the monks of Padmasambhava Mahavihara Monastery in Jirang, the largest Buddhist monastery in Eastern India. Besides food, a kit containing essential items like sanitisers, hand wash, sanitary napkins and masks were also provided by KIIT and KISS, facilitated under the visionary leadership of Prof. Achyuta Samanta, Lok Sabha MP from Kandhamal and Founder or KIIT & KISS.
Feminine hygiene products were also handed over to District Administration for distribution among women and girls in Ganjam. Notably, KIIT and KISS have provided groceries for two old age homes in Chandragiri and have pledged to adopt both and take care of all finances henceforth. "This crisis is not going to pass soon; it will take its time. Each one of us is inextricably connected to each other. We can overcome these difficult and unimaginable days only by being together. The real war with Corona is not now, it is also the aftermath", said Dr Samanta, while informing that their contact with the monastery dates back to a decade. Guru Gyetrul Jigme Rinpoche, the head Lama of the Monastery has congratulated Dr Samanta for his thoughtful leadership and compassion.
KISS Foundation continued providing free cooked food to needy people in 15 districts of Odisha
KISS Foundation provided cooked food to needy people in fifteen districts of Odisha during the second wave of the Pandemic. After the lockdown was extended till May 31, KIIT and KISS have started the drive to provide free food at 21 places including 18 places in 15 districts and 3 places in Bhubaneswar. KIIT and KISS have decided to run the free food drive till May 31. KIIT and KISS founder Dr Achyuta Samanta personally monitored the drive. Odisha government has extended lockdown till May 31 in the wake of the severity of the Covid pandemic. During this period cooked food (lunch) was provided by KIIT and KISS to poor and helpless people in 15 districts including Koraput, Rayagada, Malkangiri, Nabarangpur, Kalahandi, Balangir, Sambalpur, Sonepur, Sundergarh, Keonjhar, Mayurbhanj, Kandhamal, Boudh, Ganjam and Gajapati. In Bhubaneswar, KIIT and KISS provided cooked food for the Buddhanagar Leprosy colony, Mancheswar Jagannath Leprosy colony, Keshari Nagar Swapna Trust and Blind Association in Ward No 41 for both, lunch and dinner.

Free Education In KIIT For Children Of Covid Deceased In Odisha
The Covid-19 pandemic has infected millions and caused much panic across the globe, including India and Odisha With increasing coronavirus infections and perils of loss of life looming large. KIIT has reached out to the distressed people at the time of natural calamities in the state. It has become the pride of Odisha as it has always stood by the people of the state at the time of their need. The Covid-19 pandemic has disrupted and devastated the normal life and livelihoods of the people of Odisha. Now KIIT Deemed to be University has extended a helping hand to the families of the Covid deceased. The Founder of KIIT & KISS, Dr Achyuta Samanta, as a humanitarian gesture has declared to provide technical and professional education absolutely free of cost to the children of the Covid deceased. Sons and daughters of the Covid deceased, who are interested, can apply to different technical and professional courses of KIIT-DU, including ITI and Diploma Engineering, as per their eligibility for admission. This facility will be available for two academic years, 2020-21 and 2021-22 only, informed KIIT authorities. Preference will be given to the children of Covid deceased from BPL, SC, ST and SCBC categories. The move will provide relief to the people of Odisha who have been made helpless by the pandemic. KIIT is the only university in India and abroad to extend such a humanitarian gesture to the families of the Covid deceased.[/vc_column_text][/vc_column][/vc_row]